La Provincia Restaurant
La Provincia Italian Restaurant - Ristorante Italiano - Providore



La Provincia at Corinella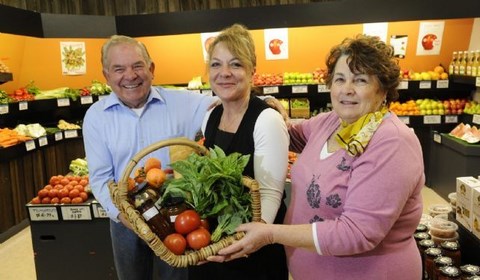 Reprinted Courtesy and with Thanks, the "WEEKLY TIMES"
This Article published September 14th 2011 Copyright (c) Weekly Times
Farmers work hard, But the Riccardi family, in Corinella, South Gippsland, would have to be among the most hardworking.
For starters, they run a 10ha farm growing Grapes, Olives and an eclectic array of Fruit and Vegetables.
On this property, father Ben, mother Gina, daughter Marie and her husband, Michael Formichelli,
run La Provincia, a home-style Italian Restaurant and Providore Shop.
In that restaurant and shop, the family sells a delectable array of food, most of which is made by their own hands,
using recipes passed down from their Italian ancestors.
There is their homemade Corinella Estate Olive Oil with an annual production of 1500 litres pressed on the farm from
their 300 trees and made from Ben's family recipe.
There is wine - Cabernet Sauvignon, Chardonnay, Merlot and Riesling - made using No Preservatives Or Additives.
A distillery out the back churns out Grappa, Port and Limoncello Liqueur. Fresh Pasta, such as Gnocchi, Cannelloni and
Ravioli, as well as Pasta Sauces - all made by Gina - are perched on the jam-packed shelves.
"But wait, there's more," is Marie's catchcry, as she takes a tour through the Providore Shop. "I make the Breads,
Ciabatta, Sourdough and Pasta Dura - and Mum makes our Jams, Pesto and Relishes, not always using our own
Fruit and Veg, but mostly our own."
Then Marie points to the glass display cabinet.
"These are our own Cheeses. We buy in local sheep and goats milk for Ricotta and Pecorino, and make Cheddar
and a Blue Cheese.
"These cakes as well, I do, It really depends on what's available as to what I make - Apple Pie,
Custard tarts, Lemon Meringues."
La Provincia also has its own Fruit and Vegetable shop, selling all the Riccardis' farm produce.

For La Provincia address and business hours See Below
La Provincia Cafe Bar & Deli !

La Provincia Fresh Home Style Italian Cuisine !
* Coffee & Pastries * Cafe & Bar * Deli
* Fresh Local Grown Produce * Wine Sales
Located :
105 CORINELLA ROAD CORINELLA VIC 3984
Just 1 Kilometer from the Bass Hwy turnoff into Corinella Road.
Phone : 03 5678 0382
Opening Days & Hours :
Saturday 8:30 am To 5:00 pm
Sunday 8:30 am To 5:00 pm
Monday 8:30 am To 3:30 pm