Corinella Community Groups, Clubs and Associations
Corinella Community MARKET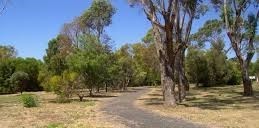 The Corinella Market is held on the second Saturday of the month
at the Harold Hughes Public Park on Smythe / Balcombe Street Corinella
Also Indoor facility is available for specialty items and Devonshire Teas just
next to the park at the Corinella Public Hall

New Stall Holders are most welcome !

For all details and to book your stall Contact Gwen on 0490 852753
Bass Valley Primary School

Corinella Foreshore Reserve Committee of Management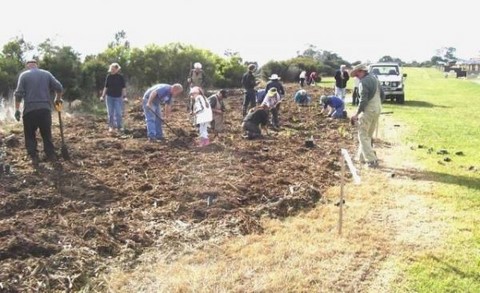 Corinella Foreshore Reserve Inc
Click below to go to the Committee of Management's website
to view meetings minutes and current news and projects and also
to obtain contact email address and phone numbers for CFRCM
Corinella Foreshore Committee of Management Website
Corinella Ratepayers & Residents Association Inc
For Corinella Progress and Improvement !
MEETINGS HELD AT THE CORINELLA COMMUNITY CENTRE
CRRA President : Wayne Maschette ph 0456 777 707
CRRA Secretary David Laing Ph 5678 0693

Postal Addresss: To The Secretary CRRA, Care of Corinella Post Office, Corinella Victoria 3984
Click the Link to Read More about CRRA
Corinella Public Hall
Corinella Public Hall is located at Smythe Street Corinella.
To enquire or to make bookings
and for more details on the Hall, Click on the Button Below
You can also view the Public Hall Committee of Management, Monthly Meeting Minutes, Click Below.
Corinella and District Community Centre Inc

Coronet Bay Ratepayer's & Residents Association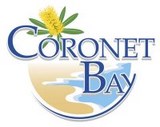 Meets at Coronet Bay Public Hall Four Times a Year
Membership just $20 per family
Contact Stephanie Hartridge 0414 370 929
email: secretary@coronetbayrra.org.au

CORONET BAY RATEPAYERS & RESIDENTS ASSOCIATION


Committee
President David Buckingham
Vice President Kevin Brown
Secretary Stephanie Hartridge
Treasurer Louise Gration


Tenby Point Ratepayer's & Residents Association
For Preservation of the TP environment. 2) Education regarding fire prevention & protection.
3) Represent the interest of members in negotiation with federal,
state or local government and or any other organization & individual.
Meetings 3rd Saturday of the month, at 3 month intervals
All Post Should Be Directed To:
The Secretary
Tenby Point Ratepayer's Association
Care Of Corinella Post Office Corinella VIC 3984

President: Jean Coffey 0419 500 593
Secretary: David Pearce 0401 514 339
All Tenby Point residents are very
welcome. Membership is just $10 per
household per year.


Coral Smith 5678 0396
Rosemary Harding 5678 0238
CFA Corinella, Country Fire Authority

CORINELLA CFA
Keeping Corinella & District Safe From Fire !
Country Fire Authority Station is Located at 8A Barker Street Corinella Victoria
New membership enquiries are very welcome Click on the Button Below !
Contact Station Secretary : Tracy Jenner 03 5678 0283
Corinella CFA Captain : Sue Jenner 03 5678 0880
ALWAYS DIAL 000 In An Emergency
Victorian Bushfire Information Line 1800 240 667
Go to Corinella CFA Page on this site
Corinella Bowling Club Inc
Corinella Lawn Bowls Club welcomes new members and visitors
to Corinella of all ages Junior and Senior to this wonderful and popular sport.
Located at 24 Balcombe street Corinella Victoria
email: corinellabowls@gmail.com
Telephone the Club on 03 5678 0497
Or Contact Steve Bray 0418 316912
Or Ladies Secretary Jacqui Carter 03 5678 0596
For More Club Details Click Corinella Bowling Club
Corinella & District Mens Shed / The Woodies Group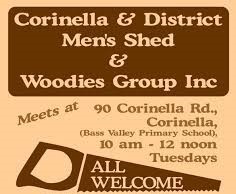 The Woodies are currently meeting at 10am each Tuesday morning
at The Mens Shed, Located aside the Bass Valley Primary School
The Corinella & District Men's Shed and Corinella Woodies group
enjoy social activities, mentoring, woodwork projects
Regular meetings 10am Tuesdays at the shed Corinella Rd Corinella (Next to the Primary School)
To find out what their up to and how you can join in
Phone Ken Thomas 0427 889 191
or just turn up at the shed!
Secretary: Mr Jim Forse Ph 03 5678 0930
Or You Can Call Corinella Community Centre on (03) 5678 0777
Corinella Boating & Angling Club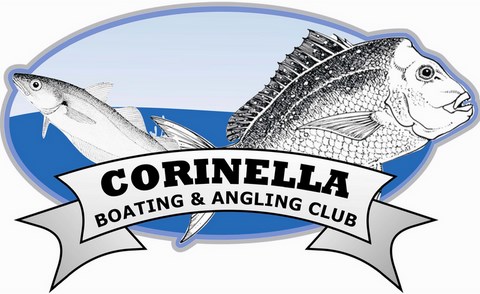 Corinella Boating and Angling Club Inc
Postal membership for membership applications & payments :
The Treasurer
Corinella Boating and Angling Club
PO Box 20 Corinella Vic 3984
Click on the Link for more details ! Corinella Boating & Angling Club
Probus Club Of Corinella Inc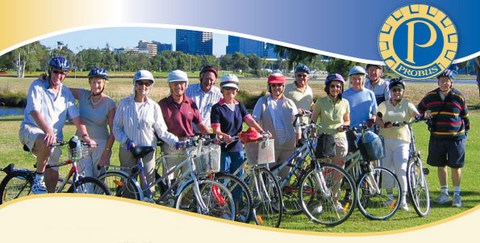 Probus Is an association of retired and semi retired
people who join together for fun and fellowship.
The club provides regular opportunities for members
to keep their minds active, expand their interests and
to enjoy the fellowship of new friends.
Meetings :
1st Wednesday of the month
10.00am at the Bass Hotel, Bass
Contact Details :
Probus Club of Corinella and District Inc
Secretary - Heather Reid
Phone: 0421012519
Postal Address :
3 French Island Close
Corinella Vic 3984


U3A - Bass Valley

Classes are being held at Corinella Community Centre
and at the Grantville Transaction Centre
We have a variety of classes offered that update regularly so please check our website for the latest offerings.

Contact Christine on (03) 5678 0033

Postal: U3A Bass Valley. PO Box 142, Grantville Vic 3984
Email address: bassvalleyu3aoffice@gmail.com
U3A Now On The Web ! Click The U3A Banner Above !
Corinella & District Senior Citizens
* New Members always welcome.
* For all people over the age of 50
* Organized Outings & Activities
throughout the year.
* Snooker, Cards and Indoor bowls
* Meet at Corinella Public Hall
on Smythe Street Monday's and Thursdays From 1:00 PM
For more details Phone Margaret on 03 5678 0716
CWA - Country Women's Association

CWA Corinella / Coronet Bay
Meeting 3rd Monday monthly at 12 noon at Corinella Community Centre All Are Welcome ! Contact Helen on 03 5678 2322
Country Women's Association
CWA Bass Group Consists of These Branches .
Coronet Bay (03) 5678 0238
Cowes (03) 5952 2165
Grantville (03) 5678 8037
Glen Alvie (03) 5678 3280
Loch (03) 5659 4268
Woodleigh Vale (03) 5678 8041
Nyora 5657 6377
All enquiries are welcome at any of the above branches .
We meet at 10:00am on the First Tuesday of the Month
at the Corinella Community Centre
We discuss business first, enjoy lunch together then a
Social activity.
We Welcome any enquiries from ladies in the local area,

We have many members from Corinella, Coronet Bay,
Tenby Point, Bass, and Cape Woolamai .
Please Give us a call on any of the above numbers today, or Click on the Link Below !
Bass Valley Historical Society Inc
Archived research, Publish local & family histories in the Bass Valley
Quarterly dinner meeting with speaker
Address:
Bass Valley Historical Society Inc
Care Of Corinella Post Office
Corinella VIC 3984
Contact:
Ms Libby Skidmore, Secretary
Ph: 03 5678 0339
email: eskidmore@dcsi.net.au
Corinella Cemetery
Corinella Cemetery
Address: Cemetery Road Corinella Victoria 3984
Best access is from Corinella road and Cemetery road intersection, this is on
your left approximately 1 kilometer from the Bass Highway turnoff into Corinella road,
Look for the La Provincia Cafe on the intersection corner.
Management:
Corinella Cemetery Trust
Mr Keith Dann, Chairperson
Ph: 03 5678 0581
Postal Contact Details:

Address Correspondence To:
Corinella Cemetery Trust,
Care Of The
Corinella General Store Vic 3984
Add Your Club or Community Group To This Page
Add Your Corinella Community Group Club or Association to these Listings,
Simply email all details to be included free, No Charge Is Applied.

Contact